##Parte 1 - The Chilean Way
Como decía ese comercial de TyC: "Es cultural".
What's missing isn't the ideas… it's the will to execute them. ~ Seth Godin
No hay interés alguno por cambiarlo. Ni en el transporte, ni la educación, ni la salud y menos el software. Es un país a medias.
###Somos lo que Deportes Player es a Nike, lo que Casa Royal a BestBuy, lo que el maestro chasquilla a Mario y Luigi.
Y es que en este síndrome de hacer todo a medias los que hacemos software quedamos cortados por la misma tijera que el resto. Cosa de ver las páginas/repositorios personales de algunos colegas para aclarar la cruenta realidad del state-of-the-art criollo.
Y aquí entran las "comunidades", las más-o-menos nombradas comunidades. Ese último intento desesperado del software chileno por forzar lazos de unidad y co-creación altruista y colectiva de conocimiento…
Lamentablemente, todos esos pseudo-esfuerzos se traducen al final del día en un centro de madres de los 70's contra el Industrial/Comercial y que poco aporta a una discusión seria en el campo.
Intereses personales, ignorancia y DEMASIADA gente le hacen mal a la discusión. Cómo sabrán soy partidario de discusiones abiertas e inclusivas, pero nuestro panorama asoma tan fraccionado como las versiones de Android y eso nunca es bueno: Analistas programadores, Licenciados en Ciencias de la Computación, Ingenieros en Computación, Ingenieros en Informática, Ingenieros Civiles en Computación/Informática, Ingenieros Civiles Industriales con mención en algo relacionado, entusiastas, autodidactas y programadores de StackOverflow nos revolcamos en marañas de información y discusiones en que todos creemos ser mejores que el resto.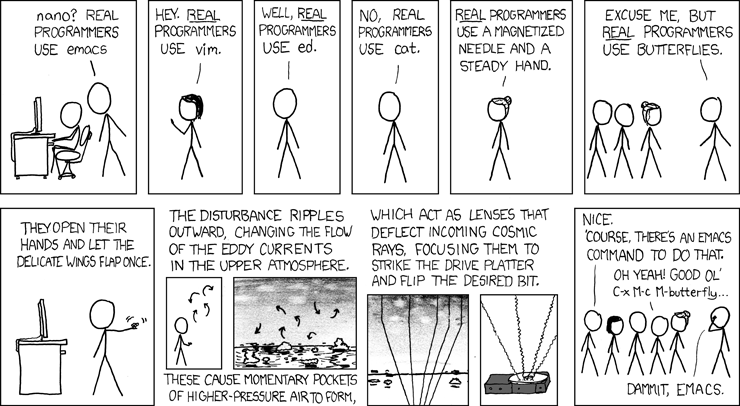 ###La educación tanto formal como informal sobre TI (y en especial sobre desarrollo de software) nos ha vuelto tan competitivos como es posible y eso nos impide pensar como grupo.
No podemos permitirnos ese lujo más, la necesidad de especialistas que realmente sepan nos hace imperiosa la tarea de dejar individualismos, unir esfuerzos, botar oportunidades de negocio entre colegas y apoyarnos de una vez por todas para sacarnos del fondo de la lista. Porque como empecé diciendo, hacemos todo a medias, incluído el software.